LITTLE BLUE NRD SEEKS SUB-DISTRICT #3 DIRECTOR
        The Little Blue Natural Resources District is searching for anyone interested in serving as a local conservation policymaker on the district's Board of Directors.
        The vacant sub-district # 3 includes the north-central and northeastern portions of Hastings and is approximately bounded by Burlington Avenue on the west. The east boundary is N California, and the south edge is "E" Street, a jog north on S. Pine where it meets "D" Street and then east to N California Avenue, and W. 9th Street for the north boundary. A map of the sub-district is below.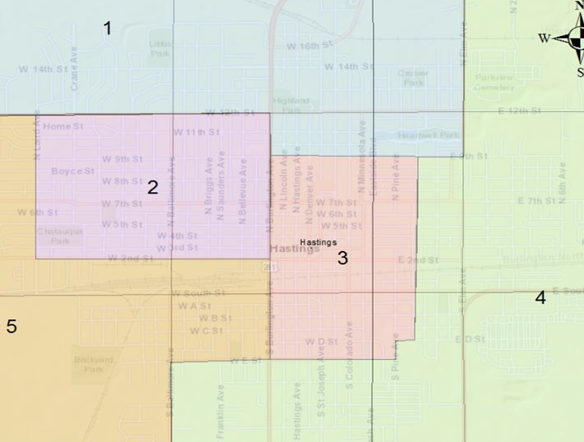 The candidate selected will fill the remaining term through December 2022. The eligibility criteria are that the prospective applicant must reside within the sub-district boundaries and that they are a registered voter. An interest in the management of our soil and water resources and the environment is desirable.
        For more information on the vacant board position, please contact the NRD office in Davenport (402-364-2145) or email Marlin Kimle, board chairman, at marlin@myhbank.com. If interested, please submit a letter of interest to Marlin to the email provided above on or before December 31, 2020. The Board of Directors plans to fill the position at the January 12, 2021 Board of Directors Meeting.
PO Box 100
Davenport, NE 68335 
Phone: 402-364-2145  
E-mail: marlin@myhbank.com 
WEBSITE: www.littlebluenrd.org