Thirty-Two Mile Creek Watershed Flood Reduction Plan
During spring 2023, the Little Blue Natural Resources District (LBNRD) launched the Thirty-Two Mile Creek WFPO Plan-Environmental Assessment (EA) with support from the Natural Resources Conservation Service (NRCS). A kick-off meeting with local and state agencies was held on Tuesday, August 1st with a public open house that followed that evening from 5:00 – 7:00 pm at the Kenesaw Fire Hall, 115 E Maple Street, Kenesaw, NE.  At this open house, attendees were able to learn about the WFPO planning process, comment on flooding conditions in the area, and speak with project team members.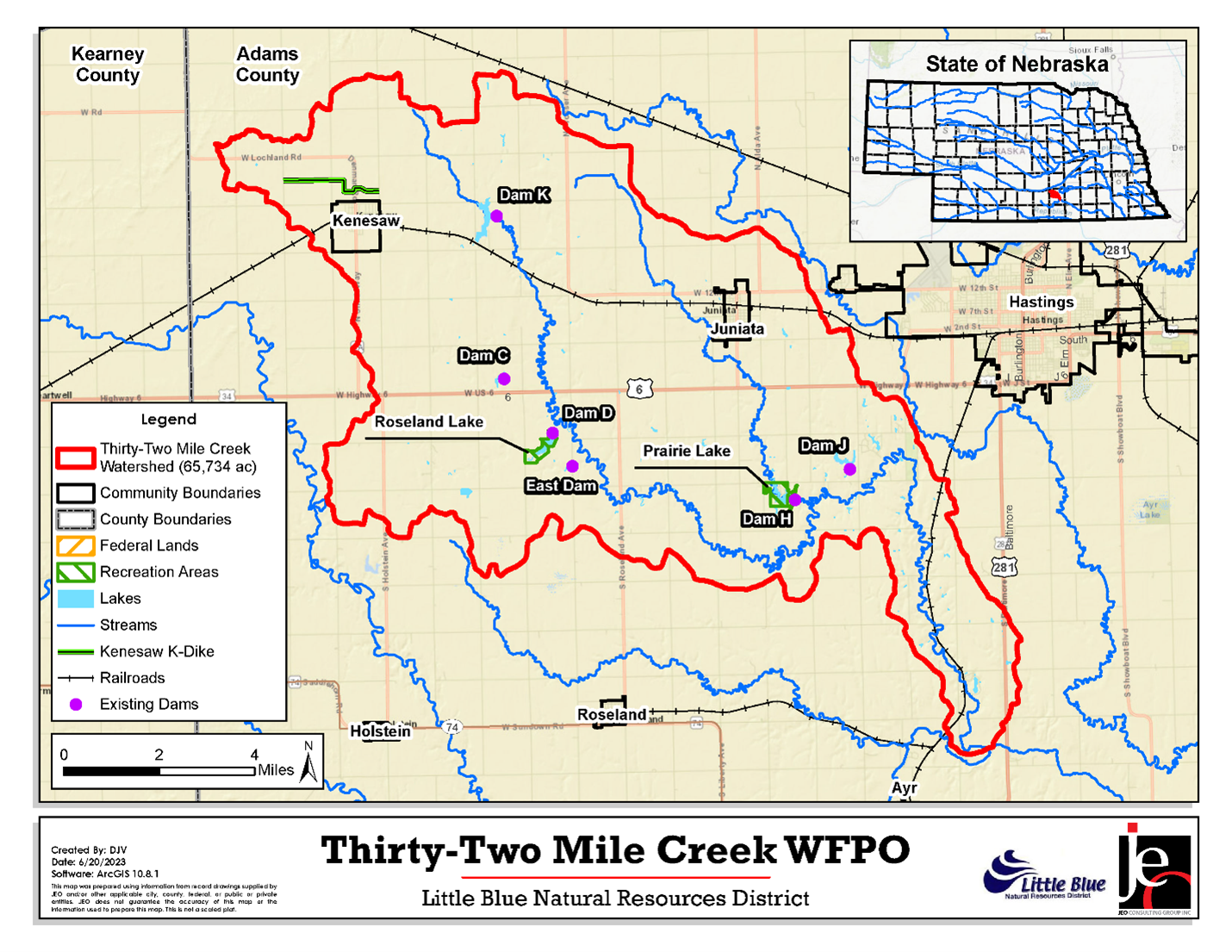 The Plan-EA will be used to help document existing flooding problems, evaluate new strategies for flood reduction and watershed protection, and propose cost-effective ways to reduce flooding impacts. Current planning efforts started in spring 2023 and are scheduled to be completed in spring 2025. The final design on any of the projects carried forward would continue into 2026, followed by construction. JEO Consulting Group (JEO) has been retained to complete the planning process for the LBNRD. The watershed planning process is anticipated to be complete by the spring of 2025.  
For more detailed information about the planning process and for regular project updates, visit: jeo.com/thirty-two-mile-creek-watershed.  
Public input is extremely important to the project, and the project team is looking for comments on flooding problems within the Thirty-Two Mile Creek Watershed with a focus on agricultural and rural areas between Kenesaw and Juniata.  
For more information about the project or to share your feedback with the planning team, please contact Michael Placke, Project Manager at mplacke@jeo.com or (402) 432-4617.