CSD Interactive Water Levels Map
On the left side of the screen, check active water levels. Copy and paste 402504097432201 into the search bar and hit enter.  The popup will show the last 5 years of measurements for the Shickley recorder.  If you click "View Hydrograph and Additional Water Levels" in the popup, it will show you all the data there is for the well.  All data we collect from this well in the future will appear on this site. Click on any of the blue squares to see the water levels for that well and its 5 year history.
Water Quality
Learn more about what our district is facing when it comes to nitrate levels, and what to do if you are in a sub area.  Also, to view other information such as our irrigation scheduling tips and operator training dates please click Learn More.
Water Quantity
For more information on our meter maintenance program. Also, to view other information like static water level history, and approved flow meters please click Learn More.
Well Information
To apply for a well permit or to decommission a well please click  Learn More.
Chemigation
To obtain a chemigation permit or for required equipment for chemigation please click Learn More.
The District has developed a comprehensive Water Management Plan. This plan is an ongoing effort to protect this important resource we rely on for our daily lives.
The Little Blue NRD Board of Directors approved revisions to regulations for administering the Groundwater Management and Protection Act that were effective as of May 12, 2011.
Current Stays on Well Drilling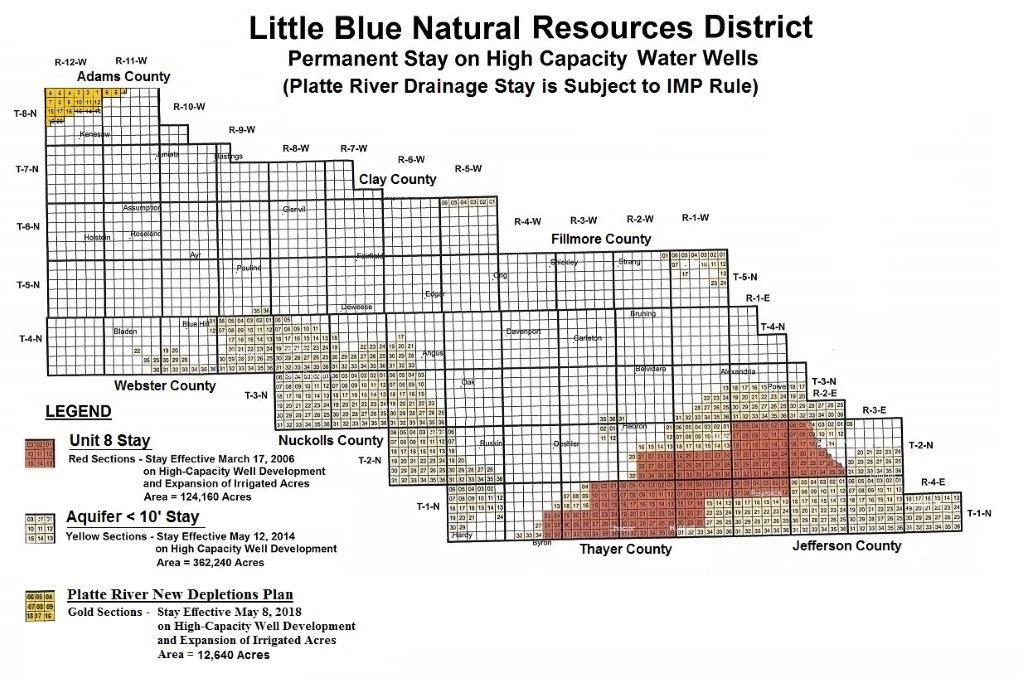 Little Blue NRD Groundwater Management Plan