Voluntary IMP Approved by LBNRD Board
Important Documents Below
(Click the image view.)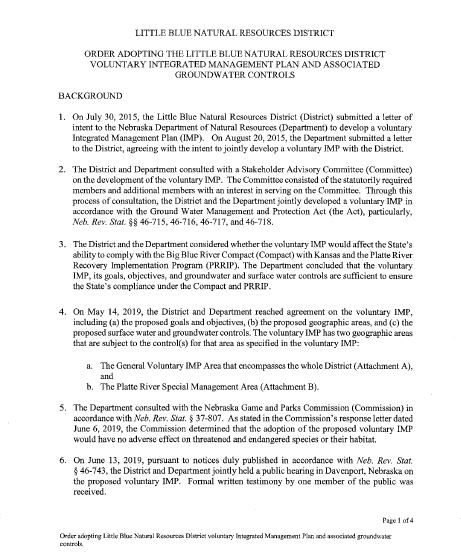 Order adopting the Little Blue Natural Resources Voluntary Integrated Management Plan and Associated Groundwater Controls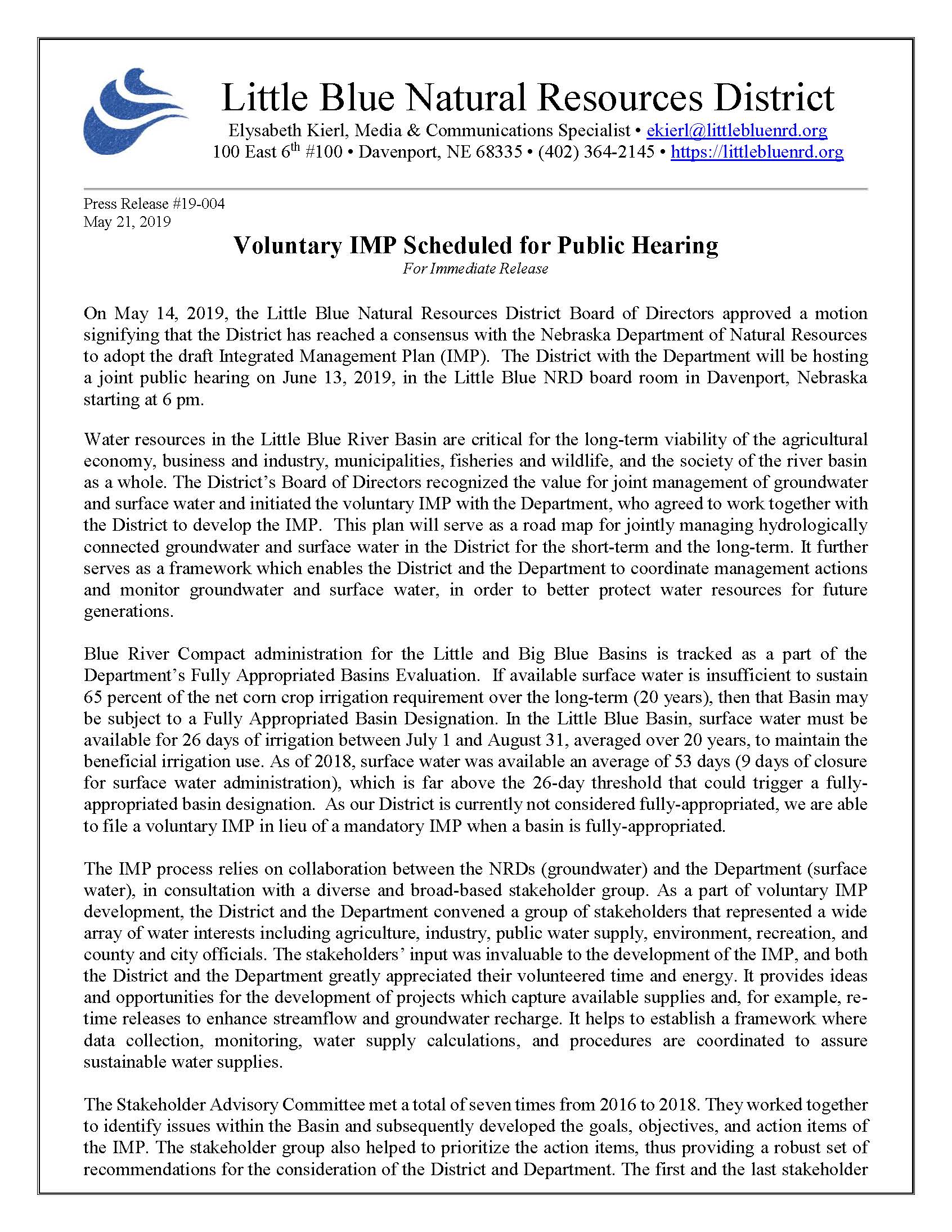 Press Release – Voluntary IMP Scheduled for Public Hearing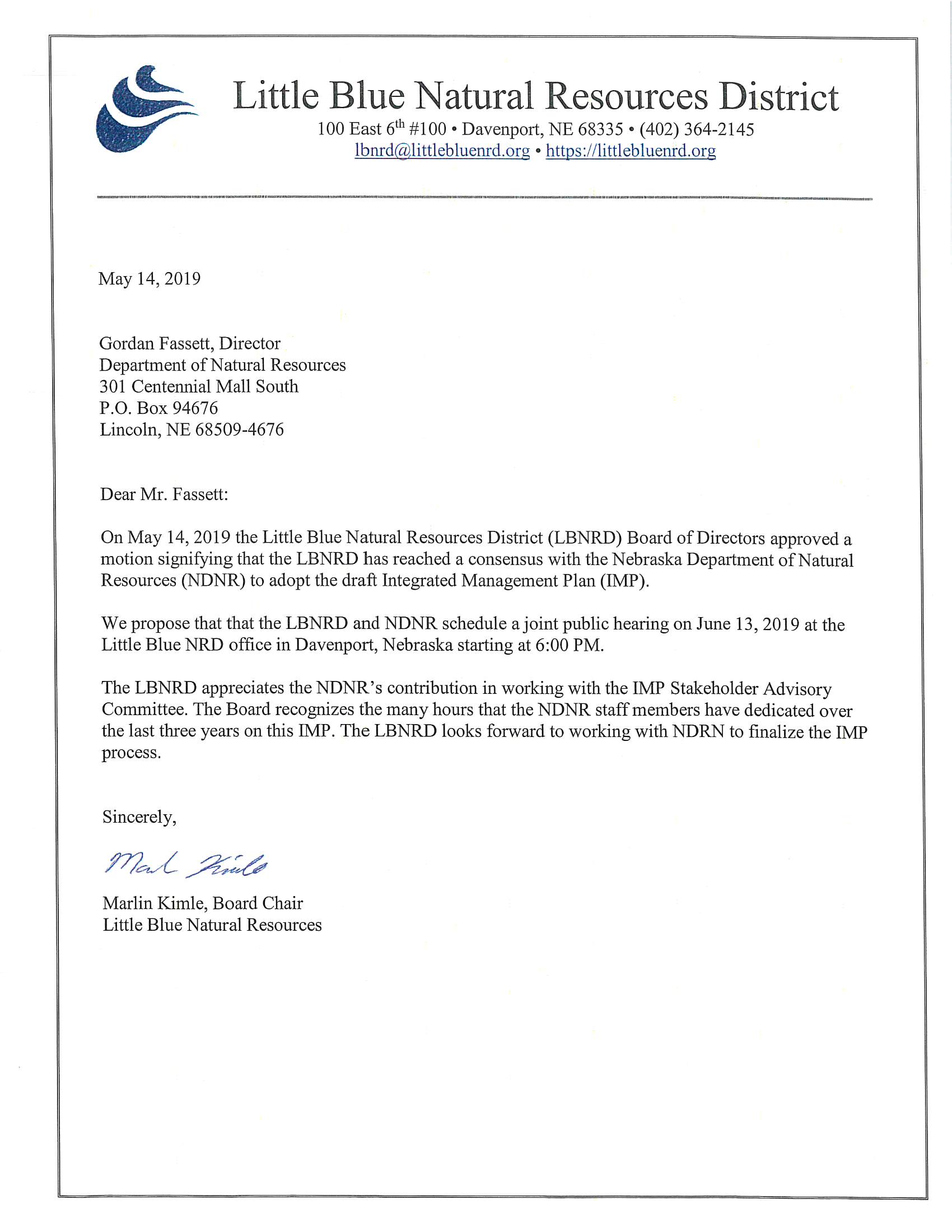 Letter to Department from Chairman Kimle scheduling IMP Public Hearing date.
IMP Approved!!!
Approved by Little Blue NRD board on July 9th, 2019! 
What is an Integrated Management Plan?
Water resources in the Little Blue River Basin are critical for the long-term viability of the agricultural economy, business and industry, municipalities, fisheries and wildlife, and the society of the river basin as a whole. The District's Board of Directors recognized the value for joint management of groundwater and surface water and initiated the voluntary IMP with the Department, who agreed to work jointly with the District to develop the IMP. This plan will serve as a road map for jointly managing hydrologically connected groundwater and surface water in the District for the short term and the long term. It further serves as a framework which enables the District and the Department to coordinate management actions and monitor groundwater and surface water, in order to better protect water resources for future generations.
Why is the Little Blue NRD's IMP voluntary?
Legislation was enacted in 2010 to provide a framework for voluntary integrated management planning in areas not designated as fully-appropriated. A voluntary IMP is developed under the same statutory framework as a fully-appropriated IMP, but may have different authority to take certain actions as streamflow is still sufficient to sustain, over the long term, the beneficial uses of surface water appropriations and wells in hydrologically connected areas. The voluntary IMP process is an opportunity for NRDs and the Department to work together to proactively manage the growth of water uses while protecting existing uses prior to reaching a formal designation.
What geographic area does the IMP cover?
This document covers two management areas: 1) The general IMP area, which includes all water users and, in effect, covers the whole District, and 2) The Platte River Special Management Area. During the development of the IMP, new data and science on the Platte River revealed that water uses in the Platte River Basin were causing a greater impact to streamflows than previously indicated. As a result, the area was subject to management under the Nebraska New Depletions Plan (further discussed in Chapter 8). Instead of writing a separate IMP for that area, the subject matter is incorporated as Chapter 8 of this IMP.
Who develops the IMP?
The IMP process relies on collaboration between the NRDs (groundwater) and the Department (surface water), in consultation with a diverse and broad-based stakeholder group. As a part of voluntary IMP development, the District and the Department convened a group of stakeholders that represented a wide array of water interests including agriculture, industry, public water supply, environment, recreation, and county and city officials. The stakeholders' input was invaluable to the development of the IMP, and their volunteered time and energy was greatly appreciated by both the District and the Department. An overview of the public participation process is included as Appendix C.