Little Blue NRD
Protecting Lives. Protecting Property. Protecting the Future. 
The City of Fairbury was issued a violation by the Nebraska Department of Health and Human Services on August 22, 2018.  The following letter was sent by Jeff Sweetser, Water Superintendent for the City of Fairbury, with the notice of violation put out by the NE DHHS....
Trailblazers RC&D is pleased to announce they have received a generous grant from the Nebraska Department of Environmental Quality and donations from the supervisors and commissioners from each of the participating counties to collect electronics at several different locations in both the Little Blue & Lower Republican Natural Resources Districts.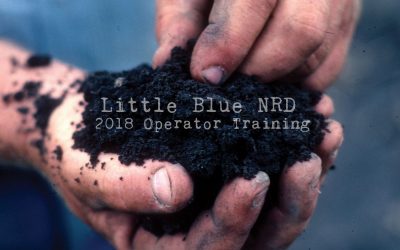 Little Blue Natural Resources District announces 2018 Operator Training Dates.
The week's events
Sun

Sunday

Mon

Monday

Tue

Tuesday

Wed

Wednesday

Thu

Thursday

Fri

Friday

Sat

Saturday

October 7, 2018

October 8, 2018

All Day: Office Closed

Office closed in observance of Columbus Day.

October 9, 2018

7:00 pm: Projects & Planning Committee Meeting

7:30 pm: Regular Board Meeting

For the agenda & supporting information please click here. 

http://littlebluenrd.org/regular-board-meeting-october-8-2018/

October 10, 2018

October 11, 2018

October 12, 2018

October 13, 2018
Keep up with Little Blue by enrolling in our mailing list below!